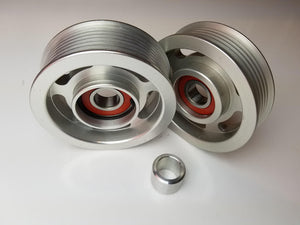 The UPD M113K performance 2 piece idler set with important custom supercharger tensioner pulley bearing shield. Includes both double pulleys needed to replace the factory plastic idlers on your performance AMG with a high quality CNC billet aluminum machined performance pulley set. High quality Nachi bearings are used and double bearings seals are used to protect bearings from heat and dirt. All our billet performance idlers have a ultra hard anodized coating. *

CNC Billet hard anodized coated *ZZ rated high speed Nachi bearings
Smooth quiet running * Easy install
Made in USA and highest quality available
Replace your idlers with UPD`s performance idler set today, as the stock AMG plastic idlers, with rubber bearing seals, are commonly known to fail from the high heat and dirty conditions under the hood. Any car with over 100k miles should replace the stock plastic pulleys. Preventative maintenance will save you the time, money, and headaches in the long run!
*Professional installation required